Sorry for the long absence from this blog.  I'll be adding short posts hopefully throughout the playoffs.
A pretty basic hockey analytics concept is that of "Score Effects."  Basically, when teams go up, they start playing more defensively and pull back, resulting in less offensive presence as the team focuses on holding a lead.  Incidentally, this results in more shots against than playing normally (although the idea is that in theory, you allow worse off shots*).  And teams that are losing naturally take more shots as a result (and as a result of them being more desperate).
*Some work I've done suggests this doesn't actually work.
None of score effects is particularly surprising to any hockey fan – especially Islanders fans, who have seen the team sit back on third period leads constantly this season (and past seasons).
The Capitals exhibit this score effect pattern as well, although their pattern is pretty….well extreme: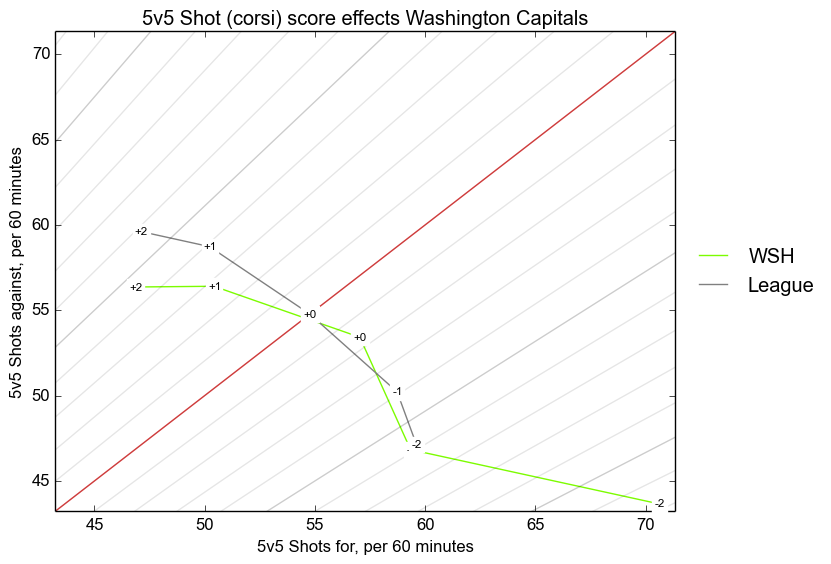 The above graph shows the Capitals' shots for and against in different score situations, courtesy of Micah Blake McCurdy (@IneffectiveMath on twitter).  The Caps are better than average by a little bit when the score is tied or within 1 goal (or up 2 goals), but during these situations, their numbers are pretty normal.
But when the Caps are down 2, they go INSANE.  The average team takes around 5 more shots per 60 minutes when down 2 than when tied – the Caps instead take nearly 15! more shots per 60.
So why does this matter?  Well Arik Parnass (@arikparnass on twitter) suggested in a Hockey Prospectus article recently (and his presentation at the DC Hockey Analytics Convention) that these effects also are felt in the playoffs based upon a team's standing in a series – if a team is down in games, they act closer to if they're down a goal in a hockey game and take more shots and if they're up, they do the reverse.
I wonder if the Caps-Isles series has been a prime example of that – the Isles have dominated both games where the series was tied (games 1 and game 3), but were dominated themselves the game in which they had a 1-0 series lead (don't let the score confuse you, that game was dominated by Washington).  And Washington is normally extremely affected by being down – is that why they were such a better team in game 2?
Well game 4 puts the Caps back in that situation.  If this is the case, the Isles better be ready, as a much better Caps team is about to come out of the gate.